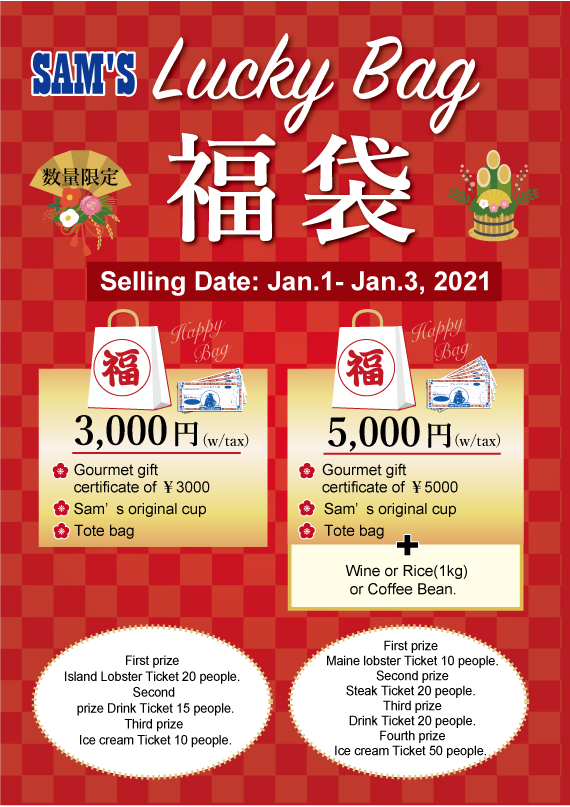 [2021 Lucky bag campaign]

Selling great Lucky bag with Sam's gourmet gift certificate,
original cup and tote bag by limited amount at all Sam's restaurants.
Also, exchange prize ticket for lobster and Maine lobster.
Please take advantage of this opportunity and purchase Lucky bag.
Selling restaurant: Sam's restaurant group
Sam's by the sea Awase, Oroku, Sam's Café,
Sam's Anchor inn Ginowan,Kokusai St., Iias Okinawa Toyosaki,
Sam's Sailor Inn Kokusai St., Sam's Maui Kokusai St., Maui Kumoji

Selling date: Jan. 1st(Fri.), 2021-Jan. 3rd(Sun.), 2021
Selling in each restaurant business hours.
First come first served basis, finish after sellout.

Selling price: ¥3000(with tax) & ¥5000(with tax) Two kinds

---------------------------------------------------

Set contents

3000 Lucky bag of Gourmet gift certificate of ¥3000
Sam's original cup
Tote bag(Fujio food group original)

Lucky bag of ¥5000 Gourmet gift certificate of ¥5000
Sam's original cup
Tote bag(Fujio food group original)
Wine or rice(1kg) or coffee bean.

Gourmet gift certificate use by Jan. 1, 2023.

---------------------------------------------------

Gift contents 3000 Lucky bag of ¥3000
First prize Baked lobster with sea urchin sauce ticket 20 people.
Second prize Drink ticket 15 people.
Third prize Ice cream ticket 10 people.

5000 Lucky bag of ¥5000
First prize One maine lobster ticket 10 people.
Second prize Steak ticket 20 people.
Third prize Drink ticket 20 people.
Fourth prize Ice cream ticket 50 people.

Please contact at each restaurant for details.